on
June 27, 2014
at
12:01 am
And that's Season 4!  I'm currently eight and a half months pregnant, so I'll be taking a bit of a maternity break before starting the next season.  But that doesn't mean Monster of the Week will lie fallow!  Keep an eye out for what should be a very cool bonus comic.
UPDATE: So what's with the lack of new comics?  Well, I had a baby.  And then, in possibly related developments, I ran out of both time and money to spare.  So now the situation is this: Jeff Wells (my co-writer on Skin Horse) and I have a Patreon.  If the Patreon reaches $2,000, I will restart Monster of the Week.  As an added stretch goal, if it reaches $3,000, I will start a second 1990s TV recap comic, the subject of which is a deep, dark secret known only to the owls.
I'm sorry for the trouble, but right now I can't draw multiple comics without pay.  My baby needs wine.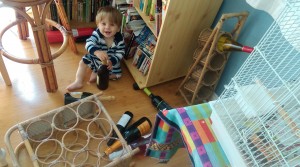 To visit our Patreon, click the link in this post or the banner at top.  Thanks very much!