My comics.
Graphic Novels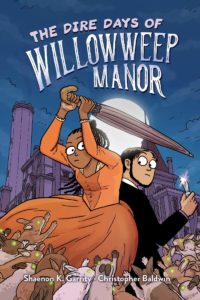 The Dire Days of Willoweep Manor
Teenage Haley is obsessed with all things Gothic, but never imagined she'd experience them in real life, until she rescues a drowning young man and wakes up in a 19th-century estate complete with brooding gentlemen, sinister servants, and an actual ghost. But all is not as it appears, as Haley learns she has not been swept into the past, but instead into a strange universe all its own. Written by me, drawn by Christopher Baldwin.
Baldwin's expressive full-color art—reminiscent of Kate Beaton's Hark! A Vagrant—and Garrity's text both delight in their humor, conveying accentuated reactions, ranging from shocked to stoic, that lean into gleeful absurdity. A romp made especially enjoyable by Haley's indulgent delight in Willowweep's ability to make her literary dreams a reality.
-Publishers Weekly
This well-paced and humorous graphic novel will appeal to readers looking for a triumphant story about being in charge of your own narrative.
-Kirkus Reviews
Selected Webcomics
Skin Horse
Somewhere in this great nation is a top-secret government agency dedicated to aiding America's nonhuman citizenry, but on a very tight budget. Daily comic strip cowritten by Jeffrey Channing Wells and me, drawn by me. Currently ongoing.
Horror Every Day
Not strictly a comic, but I spent 2018 recommending the correct horror movie for each day of the year, with illustrations.
Monster of the Week
Episodes of The X-Files recapped in twelve-panel form.
Perils of the Lady Gamer
A surprisingly popular comic I drew in 2014.
Li'l Mell
Wee tiny children engaged in wee tiny adorable adventures. A semi-spinoff of Narbonic written by me and drawn by various artists.
Narbonic
Mad science in the workplace. Daily comic strip written and drawn by me.
Selected Print Comics
"Popeye's Cartoon Club." Guest strip for Popeye, 2020 (writer and artist).
"The Princess Megathalon." Short comic for Adventure Time, 2016 (writer).
"The Telling of Faults." Short comic for Peanuts: A Tribute to Charles M. Schulz, 2015 (writer and artist).
"My Horrible Heroines." Short comic for The Big Feminist But, 2014 (writer and artist).
"Piece of Cake." Short comic for The Marvel Holiday Special, 2007 (writer).
"AIM Lang Syne." Short comic for The Marvel Holiday Special, 2006 (writer).
"Moleman's Christmas." Short comic for The Marvel Holiday Special, 2005 (writer).